The Market is the place where companies can buy raw materials and players can buy finished products. As of Day 330 (Pre-Reset), Houses, Hospitals, and Defense systems are purchased through the Estate page.
To access it go to Market -> Marketplace.

There you can choose what you want to buy and in what quality. You can buy only in the market of the country where are you located. Keep in mind that there are 25 inventory slots, and nothing can be purchased if they are full.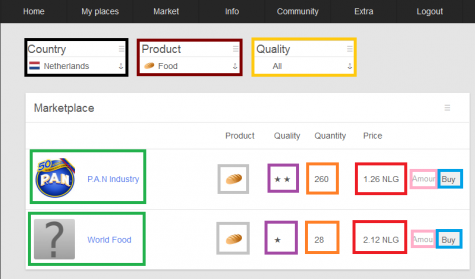 | Color | Meaning |
| --- | --- |
| Black | Market of The country, Choose the country you want to buy the products.[1] |
| Dark Red | Product you want to buy. [2] |
| Yellow | The Quality of the product you are looking for [3] |
| Green | The Company you are buying the product from. |
| Grey | The Product they are offering. |
| Purple | The Quality of the Product. |
| Orange | The Quantity of the products this company is offering. |
| Red | The Price of the product. |
| Pink | The Quantity of Products you want to buy. |
| Blue | The Buy Button. |
↑

You can only buy products if you are in a region owned by that country.

↑ You cannot buy Raw materials as a Normal citizen; only Companies can buy them.
↑

This means that the higher the Quality, the better and more expensive they typically are.